Belize Information
Geography: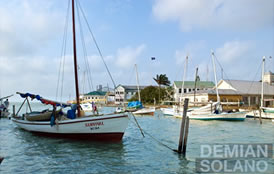 Located on the Caribbean coast of Central America, Belize is a melting pot of cultures and ethnicities, drawn from English, African, Latin, Mayan, and Caribbean ancestry. 
The country consists of approximately 8,866 square miles of land and shares borders with Mexico in the North, Guatemala to the West and South, and by the Caribbean Sea on the East.  The Belize Barrier Reef, the second largest in the world, runs parallel to our coast, and consists of over 120 offshore Cayes (Islands), most of which are uninhabited.  Rated as one of the best Dive Destinations in the world, it is no surprise that the Barrier Reef is arguably the country's most cherished natural resource.
The climate can be described as being sub-tropical, with temperatures ranging from 50 Degrees Fahrenheit in the hills and higher elevations to 95 Degrees Fahrenheit in coastal areas.  The Humidity, while high, is tempered by cool trade winds with November to January being the coolest months, while May to September are the warmest.  The Dry Season usually extends from November to May, while the Rainy Season runs from June to October.  Belize also sits within the Hurricane Belt, making it susceptible to the annual threat of tropical cyclones.